Friday, September 14, 2012
Posted by

Innate Explorer
at 1:04 PM
1 comments


Thursday, September 6, 2012
I have to admit, I am now an RK fan. Not Ranbir Kapoor (although he is very talented) but Rajesh Khanna. Something stirred within me the day he died. He'd starred in two of my favourite films — Anand (1971) and Kati Patang (1970). It was a strange sense of loss I felt and to overcome it, I ordered his movies from Flipkart — Daag and a six-pack of Aradhana, Kati Patang, Amar Prem, Mehboob Ki Mehendi, Apna Desh and Thodisi Bewafai. I watched them all except Thodisi Bewafai. Why? I don't quite know. Maybe because I was interested in the Rajesh Khanna of the 1969-73 phase, when he was at the peak of his superstardom. I loved his movies and though his acting was often restricted to stylized mannerisms, he lit up the screen with his appearance even the dreary Mehboob Ki Mehendi.
Rajesh Khanna was larger than life. You noticed what he wore, what he did, how he did it and who he was with. He had a band of followers and fans that Indian cinema had never seen before. Today, no actor, no matter how great a star he is, will be able to face the camera with the confidence of a Rajesh Khanna in Amar Prem, if he has a huge pimple on his right cheek. A pimple would do nothing to dent RK's popularity. If at all, it might have become another style statement like his guru kurtas.
In 2004, at director Mahesh Bhatt's insistence, I met Shakti Samanta, the man who had directed some of the best Rajesh Khanna films – Aradhana, Kati Patang and Amar Prem — at his tiny office at Nataraj Studio in Mumbai. I hadn't watched any of these films then and Samanta, who hadn't made a film for 15 years or so, did not mind my admitting to it. "They were made much before you were born," he had said, "So you will not know about how big these films were." I still regret the fact that I had not watched them then, for it would have led to a beautiful conversation on the cinema of an era when filmstars were demigods.
Though Rajesh Khanna's superstardom faded away with the rise of the next superstar, Amitabh Bachchan, he continued to deliver good films which were box office successes. Why then, in spite of a long and successful career did he fade out of people's memories? Some say, he did not manage his career properly. But then even Amitabh Bachchan had a long lull in his career between the late 80s and the year 2000 when he made a comeback with Kaun Banega Crorepati on television, a medium different from what had initially catapulted him into superstardom.
How then have the three Khans — Shah Rukh, Salman and Aamir — managed to remain superstars for so long? As a child in the 90s, I grew up on a heavy dose of their films and danced to their songs. In college too, I would make it a point to watch Shah Rukh Khan's (SRK's) Diwali blockbusters or Aamir's one film each year. I wasn't a great Salman fan, but I did catch up on a few of his films. Why haven't they faded in these 20 years the way Rajesh Khanna did in the 1980s and Amitabh Bachchan in the 1990s?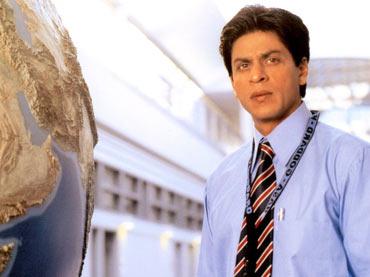 I think it's probably because of SRK. He was one of the first guys who decided to put a price-tag on his every appearance off-screen. He danced at weddings to make money to buy his bungalow. He cut ribbons at inaugurations for a fee. He commercialised the whole idea of a superstar, so much so that others, who had earlier frowned upon his 'business sense', joined the bandwagon. It's difficult to forget SRK. Because when you're not watching his film, you're watching him sell washing machines and cars on TV. If not, then you'll catch a glimpse of him at a cricket stadium cheering for the club he owns — Kolkata Knight Riders. He gives interviews to the media liberally and allows people a glimpse of his life. And if you show him the money, he'll even dance at your sangeet. You may worship SRK, but you'll worship him as a human, unlike the superstars of the yore like Rajesh Khanna and Amitabh Bachchan in the 1970s who were worshipped like God. So, over 20 years since we first saw SRK on the big screen, he still is the superstar he was and he rides the wave of showbusiness smoothly.
When Hrithik Roshan was launched in 2000 and SRK's Phir Bhi Dil Hai Hindustani bombed at the box office, they said a new superstar was born and SRK was written off. SRK must have had his Rajesh-Khanna-of-the-1973-moment when the 'next big thing' was deemed bigger than he was, but he quickly shoved it away, got his act together, moved on to doing more commercials and meatier, older roles (Chak De India! and Swades) and made a superstar of himself instead of his screen image. Ditto for the other two Khans, who have cashed in on the rising popularity of television to keep their careers going and overcome the lull periods in their film careers. So yes, there may not be any more letters written in blood by young girls for the three Khans (now all in their late 40s), but they've done enough to be a part of public memory for too long to be forgotten too soon, even if the 'next big thing' is on the horizon.
Posted by

Innate Explorer
at 12:07 PM
3 comments


Tuesday, September 4, 2012
Cloudburst! I got a lift from a stranger, a septuagenarian. Her driver did not know where the switch for the headlights was. I found it, finally. We were stuck in a traffic jam for over two hours at the foot of the Surya Palace flyover. I watched four Chinese guys in the Xylo next to us puff through three packs of cigarettes. We decided to turn into another road but were mobbed in turn. The hyperventilating old lady wondered why people were in a hurr
y as we tried to figure which bridge to go to to cross over to the other side of the railway station and the Vishwamitri River. I finally got back home. But there was power supply in only a few of the rooms and mosquitoes in all of them. We made some calls to the Gujarat Electricity Board who arrived at 2.30 am (only possible in Baroda) and got the three-phase working. Then finally, I got some sleep in air-conditioned bliss. It was some night, last night!
Posted by

Innate Explorer
at 11:58 AM
0 comments